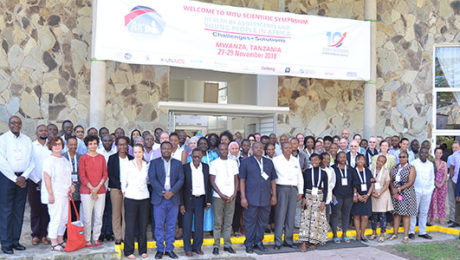 MITU recently organized a highly successful scientific symposium with the theme "Health of Adolescents and Young People in sub-Saharan Africa: Challenges and Solutions".  The symposium was held on 27-29 November 2018 in Mwanza city, NW Tanzania. The symposium was part of the celebrations to mark the 10th anniversary of MITU, one of the main LSHTM research partnerships in Africa, and a product of a long-standing research collaboration with the Tanzanian National Institute for Medical Research (NIMR). 
The symposium was attended by scientists from Tanzania (58), other African countries (36), Europe (23) and the United States (1). Participants included strong representation from other LSHTM-related partnerships in Africa, including the MRC/UVRI & LSHTM Uganda Research Unit in Uganda, Malawi Epidemiology and Intervention Research Unit (MEIRU) in Malawi, and Biomedical Research and Training Institute (BRTI) in Zimbabwe, Zambia AIDS Related Tuberculosis (ZAMBART) Project in Zambia, and other key collaborators from South Africa, Kenya and Ghana.
During the symposium, there were keynote presentations reviewing key areas of the health of adolescents and young people (AYP) in Africa, as well as shorter talks and discussion of research gaps, future directions and methodological approaches. Important areas of AYP health addressed included HIV and sexual health; mental health; non-communicable diseases; cognitive development and risk taking; and development and evaluation of interventions. The presentations also showcased research conducted by MITU on adolescent health. This included a special poster session which was well attended by participants during the first two days of the meeting. A special journal supplement showcasing major presentations during the symposium will be published.
We look forward to continuing growth in our research and impact during the next ten years!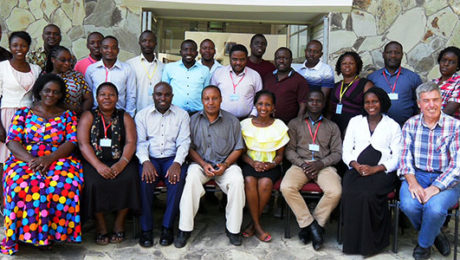 The Mwanza research methods course is an annual event co-organised by MITU and the National Institute for Medical Research (NIMR) Mwanza Centre. This training opportunity continues to be popular among early career researchers in the East African region.
The course was designed to cater for the needs of researchers in the early stages of their careers.  It complements what is offered in formal training institutions (such as universities) by focussing on both theoretical and practical training covering all key stages in research process.
Course graduates have utilised the knowledge in different ways – some to complement their post graduate training at Masters, PhD and post-doctoral levels.
Since its inception in 2011, the course has been delivered consistently with the same high quality. The course tutors are expert researchers at MITU/NIMR and the London School of Hygiene & Tropical Medicine who ensure quality theoretical teaching and practical sessions to solve problems that the participants present from their own projects.
The costs for attending the course has also been kept down in order to give an opportunity to as many participants as possible to attend the course from different countries in the East African region and beyond.
Table showing the number of participants in the course since its inception in 2011
| | | | |
| --- | --- | --- | --- |
| Year | Dates | Number of participants | Countries represented |
| 2011 | 7-25 February | 33 | Tanzania (26), Kenya (2) and Uganda (5) |
| 2012 | 19-30 March | 26 | Tanzania (24), Nigeria (1) and Zambia (1) |
| 2013 | 11-22 March | 12 | Tanzania (11) and Japan (1) |
| 2014 | 17-28 February | 17 | Tanzania (17) |
| 2015 | 2-13 March | 17 | Tanzania (15) and Rwanda (1) |
| 2016 | 7-18 March | 17 | Tanzania (16) and USA (1) |
| 2017 | 27 February-10 March | 41 | Tanzania (28), Uganda (9), Kenya (1), Malawi (1), Zambia (1) and Ethiopia (1) |
| 2018 | 26 February-9 March | 21 | Tanzania (15) and Uganda (6) |
This year the course was ran from the 26th of February to the 9th of March 2018 and was attended by 21 participants from Tanzania and Uganda. Demand for the course is increasing as evidenced by increasing number of applications received. Because of this, MITU/NIMR are considering running it twice a year. Discussions are also underway with some academic institutions in the region and UK to explore the possibility of accrediting the course as a module within their curricular.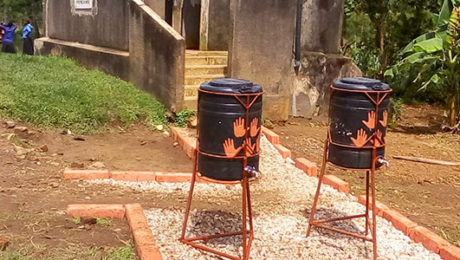 Chronic diarrhoea and helminthic infections, especially soil transmitted helminths (STH), are frequent infections in childhood, and are strongly associated with malnutrition, and poor child and cognitive development. Common STH infections – ascariasis and trichuriasis – are picked up when people ingest Ascaris lumbricoides and Trichuris trichiura eggs after they have matured in the environment by eating raw, unwashed vegetables or by not washing their hands after handling contaminated soil.
The burden of STH is very high in Kagera region in northwestern (NW) Tanzania, with more than 50% of school children infected with at least one worm in most schools in this region. As part of the national deworming programme, the government provides drugs once every year to all primary school pupils in Kagera and other regions where this is a problem. Whilst deworming campaigns offer a cost-effective method for the reduction of the STH burden, children become quickly reinfected. An integrated approach that combines sustainable hygiene behaviour change with deworming could prove a more effective way to control STH infections.
To address this problem, MITU is conducting a Mikono Safi(which means clean hands in Kiswahili) trial to assess the effectiveness of a behaviour intervention, including promotion of handwashing with soap (HWWS), among school-aged children in the Kagera region of NW Tanzania in reducing both the prevalence and intensity of Ascaris lumbricoides and Trichuris trichiura infections. This is part of the DFID funded consortium "Sanitation and Hygiene Applied Research for Equity" (SHARE) (www.shareresearch.org).
The trial is implemented in two main stages. The first stage was conducted between September 2016 and April 2017.  During this stage, formative research was conducted in three schools in Bukoba Municipality to develop and pilot a comprehensive hand hygiene intervention for use in schools and communities. Findings from this stage were used to finalise the design of the intervention package and other details of the trial.
The second stage of the trial started in August 2017 with the selection of 16 schools to be included in the trial from Bukoba municipality, Bukoba rural district and Muleba district. The schools were randomised to the intervention (8) or control (8) arm during a meeting attended by head teachers and other officials. The implementation of the intervention started in November 2017. The intervention package includes installation of handwashing facilities and other environmental modifications; engagement with parents to promote the intervention at home; teachers training and delivery of classroom sessions; educational materials to promote handwashing at school; and enhanced organisational support at schools.
The primary outcome of interest will be the prevalence of infection with ascaris and trichuris following deworming in both the intervention and control schools. Secondary outcomes will include: self-reported hand-washing behaviour (both at home and in schools), the prevalence of worm eggs retrieved from hands in a subgroup of pupils, and the prevalence of hookworm infection.
For more information about this trial and SHARE Consortium activities in Tanzania please contact Mr Amani Beda at amani.beda@mitu.or.tz or Tel # +255 282 500019.