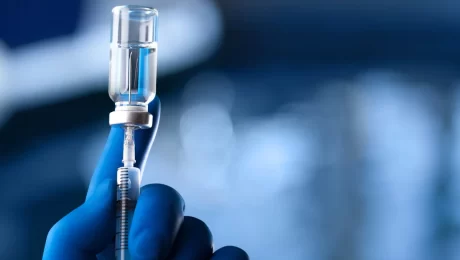 Cervical cancer is often called "a silent killer" because there are no obvious early warning signs. As the fourth most common cancer in women, it kills more than 300,000 a year globally.
But what if we could better protect against the virus that causes most cervical tumors?
The human papillomavirus, better known as HPV, is one of the most common sexually transmitted infections in the world because it often circulates without causing any disruptive symptoms. But it can cause genital warts and various cancers in both men and women—and is driving the recent rise of throat cancer in men.
Even though vaccines that prevent HPV have existed since 2006, experts say a new development may put the global goal of vaccinating 90 percent of girls under 15 within reach.
(STDs are at a shocking high. How do we reverse the trend?)
The revelation in question is simpler than you might expect: Emerging evidence suggests the HPV vaccines are effective after just one dose—rather than the two or three that are currently recommended in most countries. In 2022, the World Health Organization advised switching to a single dose of the vaccine, explaining that not only is it efficacious but it will also make distribution easier, particularly in low- and middle-income countries.
"These are remarkable vaccines. They're incredibly potent in preventing infection," says Andrew Pollard, chair the United Kingdom's Joint Committee on Vaccination and Immunization. "I think we will see a world where cervical cancer is a rarity."
The U.K is among more than 20 countries that have announced plans to switch to a single dose, a group that also includes Australia, Ireland, and Mexico. But will other countries follow suit?
A surprising discovery
The first hint that one dose of the vaccine works as well as two or three came somewhat unexpectedly—a result of studies in Costa Rica and India that were both testing multiple doses. In both cases, researchers later examined women who had only received a single dose—and those studies revealed it was still remarkably effective.
"There's a very strong biological rationale for why we expect a single dose to work," says Ruanne Barnabas, chief of infectious diseases at Massachusetts General Hospital who is leading the KEN SHE study, a randomized clinical trial investigating the efficacy of the single-dose vaccine in Kenyan women ages 15 to 20.
Typically, she explains, vaccines like the HPV vaccine are given in multiple doses because they only use part of the virus to elicit an immune response. But the proteins in the HPV vaccine behave a little differently: they reassemble themselves to mimic the whole virus—making it plausible that the vaccine could be more protective.
(How mRNA vaccines might help us fight other hard-to-treat cancers.)
More evidence has trickled in to support that hypothesis. Last year, the KEN SHE study reported that the single-dose had a 98 percent efficacy at 18 months—and new data released last month shows that has held strong through 36 months. Meanwhile, results from a study comparing vaccine efficacy in the Kenyan women to that of girls ages 9 to 14 in Tanzania showed that their immune responses were on par—suggesting a single dose could be just as effective in the younger age group.
Finally, follow-up studies of the women and girls from the original India and Costa Rica studies show that their immune responses continue to be strong more than a decade after accidentally getting just a single dose. To Pollard, this was a particularly compelling piece of evidence while weighing whether to recommend a change in the U.K's vaccination program.
"If your antibody levels stay absolutely rock solid for 10 years, they're not going to suddenly fall off a cliff," he says. "The immune system doesn't do that."
Why does it matter?
If the evidence continues to build in favor of the single-dose vaccine, it would be a game changer—particularly in low- and middle-income countries.
These countries face major challenges in delivering HPV vaccines—and as a result they suffer the highest burden, or about 90 percent of cervical cancer deaths.
The first challenge is finding the people who need the vaccines in the first place, says Greg Widmyer, senior adviser for immunization at the Bill & Melinda Gates Foundation, which funded the KEN SHE study. It's hard enough getting preteen and teenage girls into a clinic once for a shot but to come back for a second dose—or a third? "We were seeing a big drop," he says.
Delivering multiple shots is also expensive —and not just for the jabs themselves. Widmyer points out that every time you administer a dose, you must pay for staff time, transportation, and other overhead costs. For some countries, these costs for a two- or three-dose vaccine can be so prohibitive that they don't even bother to set up a vaccination program—other countries are just beginning to introduce the vaccine.
With the single dose, Greg says, the channel to reach girls "opens up completely"—you can set up vaccination clinics at places where girls already are, from schools to hair salons or other places in their communities.
(Why vaccines are critical to keeping diseases at bay.)
But it could also be a win everywhere. Switching to a single dose would ensure there's more vaccine to go around—meaning countries would be able to vaccinate a broader range of people to reach herd immunity, or the point when enough people have been vaccinated or infected naturally that the population as a whole becomes immune to a disease. Barnabas points out that countries that already allow for vaccination among boys and older age groups have seen "a really dramatic" decrease in the number of precancerous lesions and warts and cancers.
For the U.K., Pollard says it was primarily a question of efficiency. "This decision really was driven by the emerging data, which made it very clear that we were not going to be losing protection by going down to one dose—and therefore, why wouldn't you?"
An end to cervical cancer?
It's not yet clear when—or whether—other countries will make the leap to just a single-dose of the vaccine. Some may wait for more evidence from studies that are ongoing, including a trial evaluating the efficacy of a single dose among 20,000 girls ages 12 to 16 in Costa Rica. That study is expected to reach its endpoint in two years.
But experts believe that momentum is building. "I firmly believe the elimination of cervical cancer is possible," WHO Assistant Director-General Dr Princess Nothemba (Nono) Simelela said in a press release announcing the organization's decision to advise switching to a single dose. "This single-dose recommendation has the potential to take us faster to our goal of having 90 percent of girls vaccinated by the age of 15 by 2030."
Yet Pollard says it'll likely be decades before we see the true impact on cervical cancer because so many women have already been infected. "What we're doing is buying lives today that would have been lost in the future," he says.
But he and other experts agree that it would be transformative—and provides more equity in the global healthcare system.
"In Africa, every family knows a woman who has suffered from this cancer. And this is an ugly cancer. It's one that leads to a painful and somewhat dehumanizing end for these women," Widmyer says. For those living in higher-income countries, he adds, "the privilege of not knowing somebody who has died this way is pretty unique."
Source : https://www.nationalgeographic.com/science/article/cervical-cancer-hpv-vaccine-single-dose